Blogging has been considered one of the most incredible and popular mediums to share your thoughts, ideas, and experiences with a more significant level of audience; you can say, a global audience.
For bloggers, there are several designs and functionalities available for their websites, which usually engage readers and keep readers coming back to the website. Weirdly, simple WordPress themes for bloggers come into play because people are much more concerned with the complications of themes when building a website.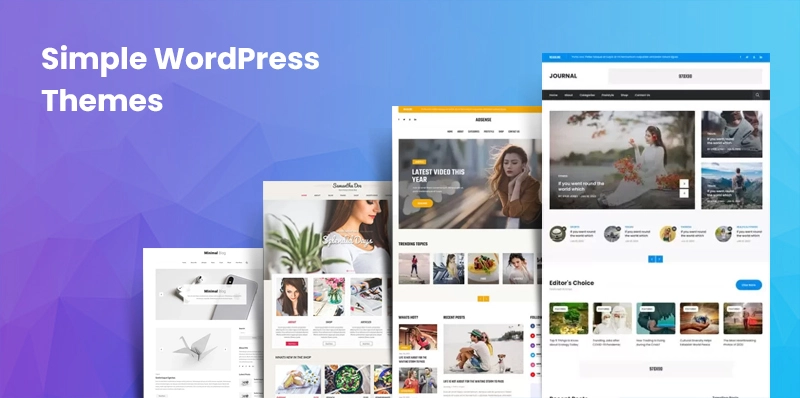 Table of Contents
In this article, we will explore a few simple WordPress themes for bloggers that can provide a seamless experience regardless of the competition available in the market.
Best Simple WordPress Themes for Bloggers
Indeed, when it comes to blogging, people choose specific themes that can make their online presence simple, elegant, and attractive for users. So, by understanding the audience's point of view, you can always choose simple WordPress themes that will take little effort, and you will understand how to use its features thoroughly.
Let's take a look at each of the themes below and also take a glance at their features: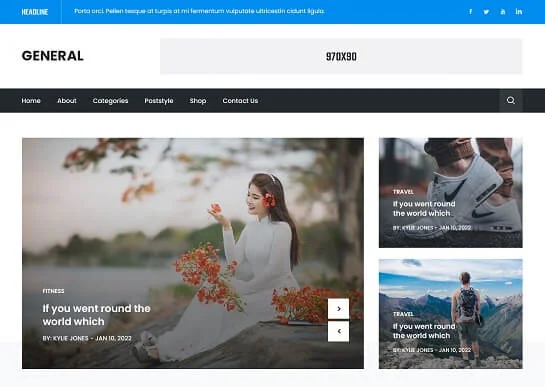 SKT Journal is a minimalist WordPress theme that is particularly customized and tailored for bloggers who are willing to opt for a clean and elegant design. This particular theme also focuses on the content by making it very easy for readers and is a straight and very user-friendly interface.
It makes bloggers Feel less complicated because the theme is simple and a must-approach. So, if someone is looking for simple WordPress themes for bloggers, SKT General is a definite approach. The theme also offers Significant styles, designs, and patterns that one can take a look at.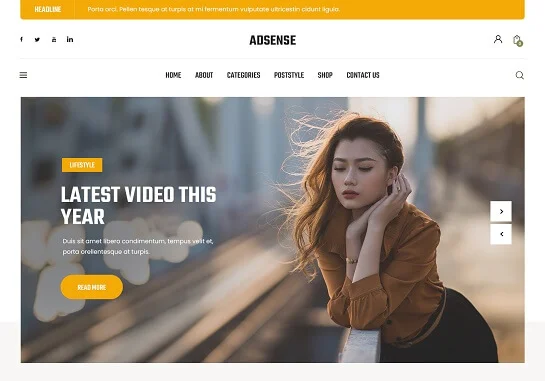 If you are a blogger aiming to monetize your blog through Google AdSense or SKT AdSense, this is the perfect choice. This particular theme is customized for displaying ads that are effectively available to maintain a clean and professional look.
With responsive design and add-friendly placement options, SKT AdSense also helps bloggers maximize their overall revenue. Bloggers can choose sketchy AdSense because it is also helpful in running ads without any issues, and this is a user-friendly interface that bloggers prefer these days.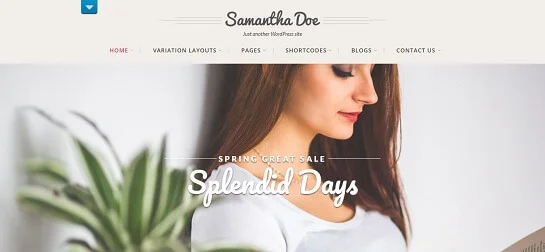 For some bloggers with a feminine touch to their content, Girlie Pro is an excellent choice. It is a WordPress theme that offers charming and exquisite designs and visuals. It is perfect for fashion bloggers or lifestyle bloggers, offering a feminine and delightful aesthetic to the blog.
So, the primary use of this theme is by female bloggers because it provides a feminine touch and is very easy to use. Being a blogger in this field, you can always go ahead with a girlie pro.
The features are unique, and it is straightforward to use. It is also customizable as per your needs and requirements. Girly Pro also offers certain excellent facilities that make the overall scheme very attractive, and it also helps in the best usage.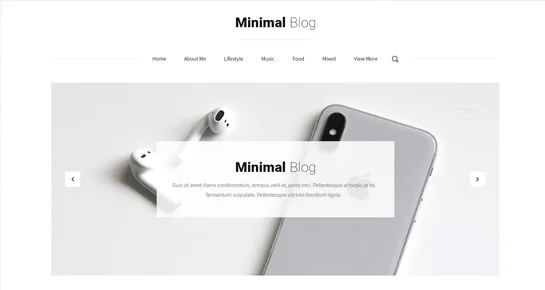 One can choose a minimal blog because this is all about the simplicity of the interface. This particular is used by people who want to customize options and typography, and this minimal blog offers very stable features that are not confusing.
If one is looking for a simple WordPress theme for bloggers, then this is one of the best platforms to choose from; it is simple, it offers minimalist designs, it is not at all complicated, and people prefer this theme quite a lot.
So, no doubt, whatever business you're having and whatever presents you want to give it online, you can always choose a minimalistic base design that a minimal blog offers.
Not only this, but those who are looking for simple WordPress themes and blog designs can always choose a minimal blog because this is one of the easiest and most convenient options to explore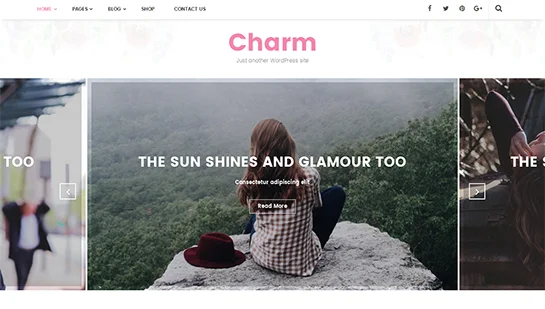 As the name of the theme suggests, it is the most charming and appealing WordPress theme designed for such bloggers who want to impress and captivate their audience with the imagery sections; it offers a wide range of wholly customized options image options as well as demo content somewhere by making all over theme very very attractive.
With its modern design and user-friendly features, Charm stands out for people looking for a beautiful and appealing website.
One can also depend upon Charm to build an attractive online presence of restaurants and food-related or fashion-related websites.
People can choose SKT Newspaper Pro because this is one of the most versatile WordPress themes, and it also caters to bloggers with a journalistic approach. The theme is also perfect for those who want to create content-rich blocks with a specific type of newspaper appeal.
It is indeed clean, and it also offers multiple layouts that are very flexible, as well as provides widgets to make it organized and present the content very effectively. Our themes come under Simple WordPress themes for bloggers, making it a unique platform for people who are into newspaper agencies or have media-related profiles, jobs, or businesses.
One can also explore SKT newspaper pro features beforehand in a trial version instead of going for the major version, and if you like it, then you can opt for this feature; this theme is also customizable as well as perfect features built in it so it makes the overall experience an amazing.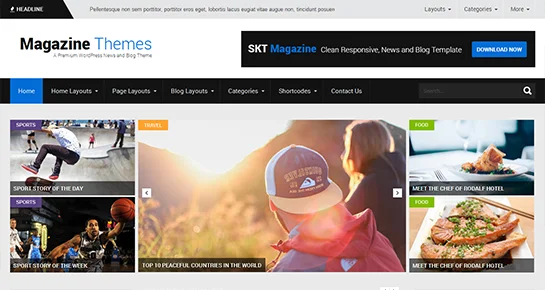 Only some bloggers who aim to create an online magazine experience are available, and for them, SKT Magazine Pro is completely outstanding.
This theme offers a modern and magazine-style layout with several customization options to match the unique style. It is also perfect for bloggers who want to explore a wide range of topics in a stylish and organized manner.
The SKT magazine pro is beautiful and makes people feel completely amazed with their appealing appearance; this theme is also much more used for people who have their magazine agency or are into this magazine business, giving it an incredible online presence.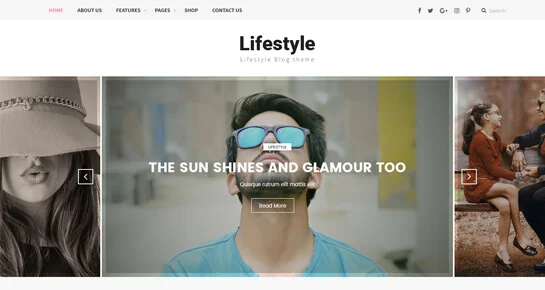 If your blog revolves around lifestyle traveler wellness, the lifestyle WordPress theme is the perfect fit. It offers your blog an incredible and elegant design that usually focuses on image and content.
The style also offers an Instagram feed integration, making it effortless. Indeed, this is one of the best and simplest WordPress themes for bloggers. One can always explore this complete platform Trial version, and then they can move ahead with the major version if they need clarification.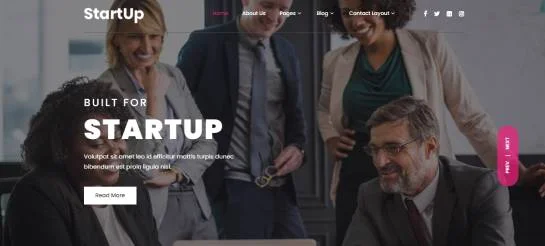 Their bloggers were looking to establish a general professional and a specific type of authoritative online presence, and they should consider SKT Startup Pro in this aspect. This theme mainly offers an immaculate and modern design, which is suitable for any niche.
There are customizable options and features, and it is a very easy-to-use interface. This theme is an excellent choice for bloggers who want to make a long-lasting impression on people.
If you are looking for simple WordPress themes for bloggers, then this theme is perfect; it offers so many customization options that it makes it easy to use for users.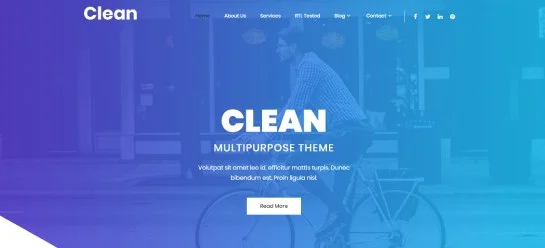 Among so many simple WordPress themes for bloggers available, Clean Pro is one of the best. It has an easy navigation feature built in, and it also ensures that your content is presented in the best possible way.
There are separate sections available for this theme, which makes it very easy to use for individuals who are much more into any business. So, you are a beginner professional expert or on the mid-level of WordPress designing.
In that case, you can go ahead with a clean pro that is also available, which is user-friendly and features an elegant design and customization options that make it the perfect tool to express one's ideas.
As the name suggests, Clean Pro usually gives a clean and appropriate theme for users who are looking to enjoy the features of the theme.
Conclusion
Those mentioned above simple WordPress themes for bloggers offer a wide range of options that suit various niches and preferences of individuals.
If you are a minimalist, any fashionista, a business blogger, or anything in between, these themes are a perfect option. The user-friendly features and designs offer a Seamless blogging experience.
There are several ideas and customization options available for users of any business to depend upon entirely. So, you should always choose the theme that best aligns with your vision, and you should also start your blogging journey with style and simplicity.
Undoubtedly, there are so many themes available all across the Web Ocean, and it becomes difficult for people to choose one in that aspect.
One can always go for the trial version, which offers for a month or two, and then they can implement the particular theme features and facilities in their platform and use it for the long term.
You can explore the above-mentioned simple WordPress theme for bloggers, incorporate them into your business, and make your online presence beautiful.